At least 100,000 civilians have been killed. That's the equivalent of 35 September 11th attacks, but I don't like to brag.
Another interesting factoid is that the war will end up costing at least $3 trillion.  With that much money, you could end world hunger for 100 years or end American hunger for 100 minutes!
Over 4 million Iraqis have lost their homes a result of the war.  That's equivalent to the population of Maine, Idaho, and New Hampshire combined. Sorry, guys. You cannot all crash on my couch.
It's all about the benjamins WMD's. Yeah, that's it! WMD's!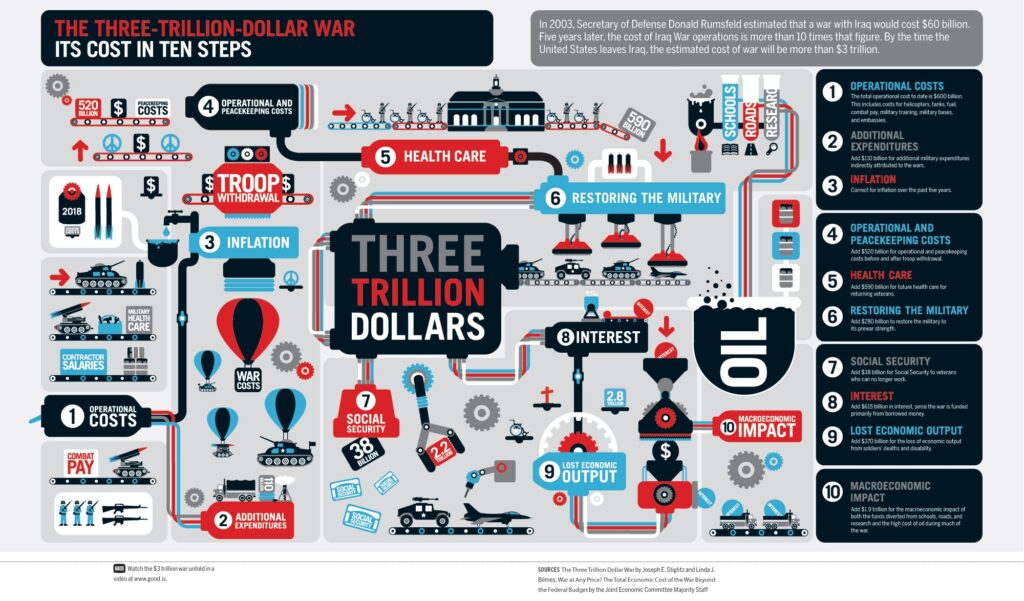 TROOPS IN IRAQ
Support Our Troops… By sending them to a Middle Eastern hellhole.
47,000 U.S. troops. All other nations have withdrawn their troops.
U.S. Troop Casualties – 4,444 US troops; 98% male. 91% non-officers; 82% active duty, 11% National Guard; 74% Caucasian, 9% African-American, 11% Latino. 19% killed by non-hostile causes. 54% of US casualties were under 25 years old. 72% were from the US Army
US Troops Wounded – 32,051, 20% of which are serious brain or spinal injuries. (Total excludes psychological injuries.)
US Troops with Serious Mental Health Problems – 30% of US troops develop serious mental health problems within 3 to 4 months of returning home
US Military Helicopters Downed in Iraq – 75 total, at least 36 by enemy fire
IRAQI TROOPS, CIVILIANS & OTHERS IN IRAQ
I'm sure you've never seen one on TV, but there are actually people who live in Iraq.
Private Contractors in Iraq, Working in Support of US Army Troops – More than 180,000 in August 2007, per The Nation/LA Times.
Journalists killed by US Forces – 14
Iraqi Police and Soldiers Killed – 9,889 as of Jan 31, 2011
Iraqi Civilians Killed, Estimated – On October 22, 2010, ABC News reported "a secret U.S. government tally that puts the Iraqi (civilian) death toll over 100,000," information that was included in more than 400,000 military documents released by Wikileaks.com.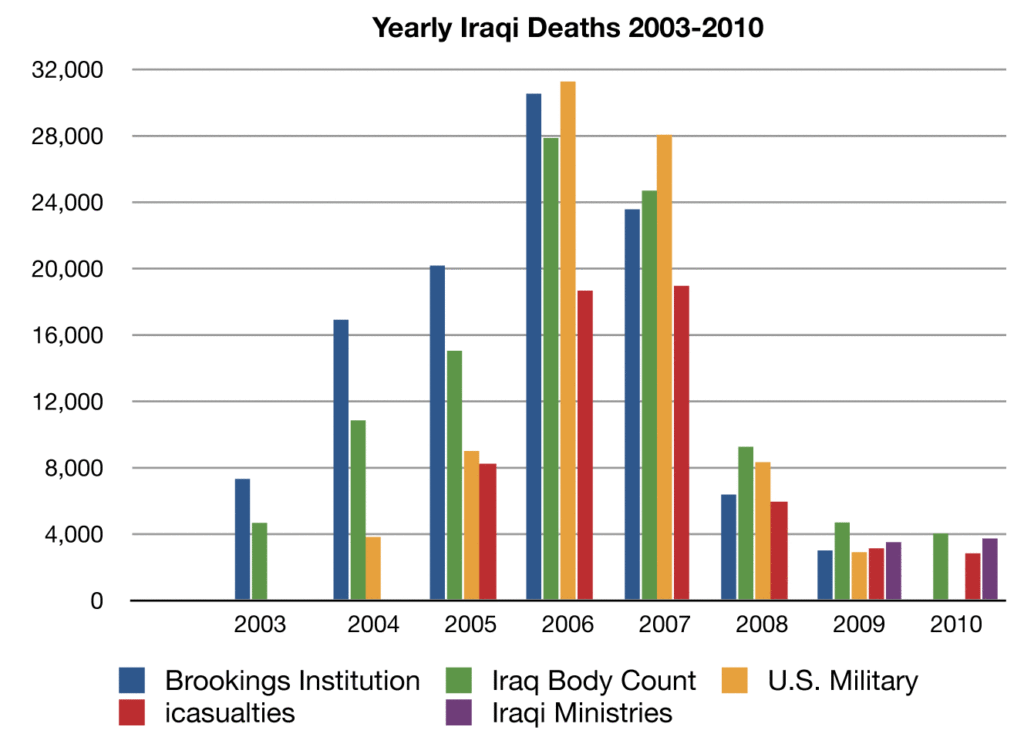 Graph Source: http://musingsoniraq.blogspot.nl/2011/01/2010-ends-with-slight-drop-in-iraqi.html
QUALITY OF LIFE INDICATORS
Why doesn't anyone ever focus on the 72% of kids who aren't malnourished?
Iraqis Displaced Inside Iraq, by Iraq War, as of May 2007 – 2,255,000
Iraqi Refugees in Syria & Jordan – 2.1 million to 2.25 million
Iraqi Unemployment Rate – 27 to 60%, where curfew not in effect
Consumer Price Inflation in 2006 – 50%
Iraqi Children Suffering from Chronic Malnutrition – 28% in June 2007 (Per CNN.com, July 30, 2007)
Percent of professionals who have left Iraq since 2003 – 40%
Iraqi Physicians Before 2003 Invasion – 34,000
Iraqi Physicians Who Have Left Iraq Since 2005 Invasion – 12,000
Iraqi Physicians Murdered Since 2003 Invasion – 2,000
Average Daily Hours Iraqi Homes Have Electricity – 1 to 2 hours, per Ryan Crocker, U.S. Ambassador to Iraq (Per Los Angeles Times, July 27, 2007)
Average Daily Hours Iraqi Homes Have Electricity – 10.9 in May 2007
Average Daily Hours Baghdad Homes Have Electricity – 5.6 in May 2007
Pre-War Daily Hours Baghdad Homes Have Electricity – 16 to 24
Number of Iraqi Homes Connected to Sewer Systems – 37%
Iraqis without access to adequate water supplies – 70% (Per CNN.com, July 30, 2007)
Water Treatment Plants Rehabilitated – 22%
IRAQI PUBLIC OPINION
What do they know, anyway?
RESULTS OF POLL Taken in Iraq in August 2005 by the British Ministry of Defense (SOURCE: BROOKINGS INSTITUTE)
Data is presented as of March 31, 2011, except as indicated.